Hybrid flooring has become an increasingly popular choice for Australian homes in recent years. Combining the durability of vinyl with the natural look of timber, hybrid floors offer the best of both worlds. Installing hybrid flooring can seem daunting, but follow this step-by-step guide, and you'd know everything about how to lay hybrid flooring.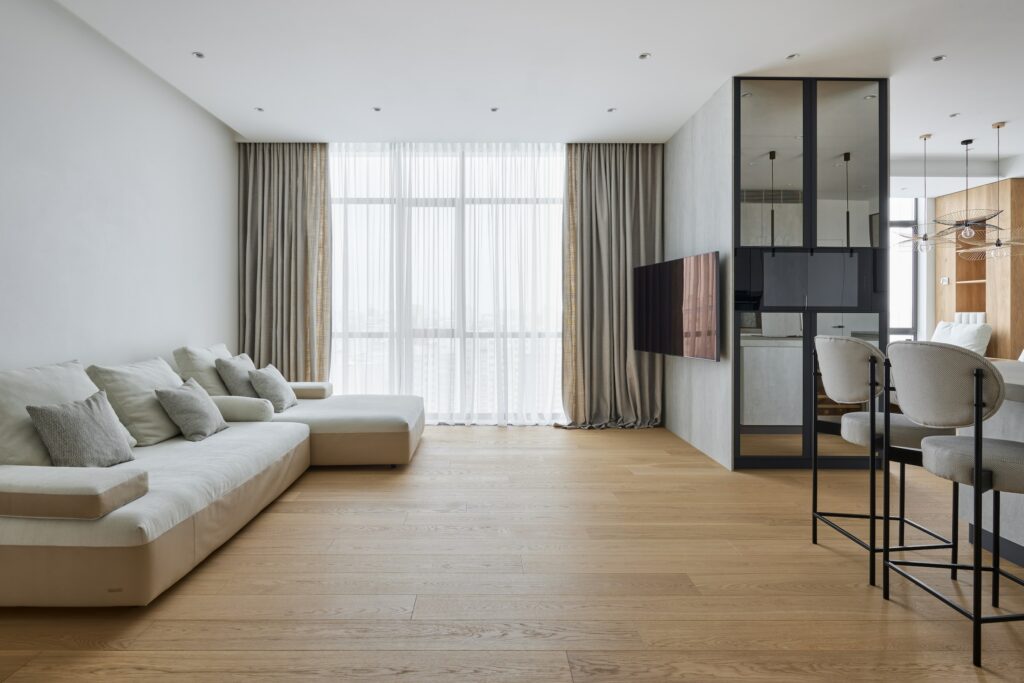 Why Choose Hybrid Flooring?
Before we get into the installation process, let's look at why hybrid flooring makes sense for many Aussie homes:
Durability: The vinyl layer makes hybrid floors super durable and resistant to scratches, stains, and dents. No more worrying about the kids or pets ruining your beautiful floors!
Waterproof: Hybrid floors are 100% waterproof, perfect for wet areas like kitchens, bathrooms, and laundry rooms. Spill away!
Affordability: Hybrid floors are more affordable than solid timber but provide a similar natural look. Get the look you love without blowing the budget.
Comfort: Hybrid floors feel warmer and softer underfoot than tile or laminate. Your feet will thank you!
Easy maintenance: A quick sweep or vacuum is all hybrid floors need to keep them looking pristine. No more sanding and polishing timber floors!
Convinced hybrid is the way to go? Let's get into the installation.
How to Lay Hybrid Flooring:
Step 1: Prepare the Subfloor
Hybrid flooring can be installed over hard surfaces, including concrete, tile, vinyl, and old timber floors. The subfloor must be clean, dry, and flat within 4mm over 3 metres.
Here are some subfloor preparation tips:
Remove existing floor coverings like carpet and underlay.
Grind down any high points to level the surface. Fill low spots with a floor leveller.
Check for moisture on concrete subfloors using a moisture meter. Excess moisture can damage hybrid floors.
Lay down 200um plastic sheeting as a moisture barrier on concrete. Overlap sheets by 30cm.
Preparing the subfloor properly will ensure your new hybrid flooring lasts for years.
Step 2: Lay the Underlay
Underlay provides a protective barrier between your hybrid flooring and the subfloor. Look for underlay made specifically for hybrid and vinyl planks.
Here's how to install the underlay:
Roll out the underlay in the opposite direction, and you'll lay the flooring.
Cut the underlay to fit the room, leaving a small gap around the perimeter.
Butt joins rather than overlapping the underlay. Tape joins to secure.
Use a Stanley knife to trim around door frames and other fixed objects neatly.
With quality underlay in place, you're ready to start laying those beautiful new hybrid floors!
Step 3: Lay the First Row
Start installing the hybrid flooring in the left-hand corner of the room. Follow these tips for laying the first row straight and square:
Lay the first plank with the tongue side facing the wall. Use spacers around the perimeter to maintain a 5mm expansion gap.
Line up the next plank and lock the ends together by tapping down with a rubber mallet.
Ensure joints are staggered in a brickwork pattern to strengthen the floor.
Use a Stanley knife to cut planks to fit around door jambs and other fixed objects.
Tap planks gently into place using a rubber mallet and tapping block.
Take your time laying the first row and ensure it's perfectly straight. It will make installing the remaining rows much easier.
Step 4: Continue Laying Remaining Rows
Once your starter row is in place, continue laying the floor, working left to right:
Lock short ends together first using a rubber mallet to tap into place.
Use a levering bar to click the long joins into place. Tap with a mallet if needed.
Ensure joints remain staggered in a brickwork pattern.
Cut final row planks to size, leaving a 5mm gap to the wall.
Roll the entire floor with a 50kg roller on completion to ensure all planks are flat and firmly clicked together.
Be sure to follow the manufacturer's instructions closely during the entire installation process. Taking care of each step will ensure your hybrid flooring looks amazing for years.
Step 5: Finish Things Off
You're so close to being done! Just a few finishing touches:
Reinstall any transition strips needed between rooms.
Reattach skirting boards and door jambs using a pry bar. Don't nail through your beautiful new floor!
Seal perimeter gaps with flexible silicone caulk to prevent moisture from getting under the floor.
Sweep and vacuum thoroughly before use.
Enjoy your brand-new hybrid flooring installation!
With some handy DIY skills and the right tools, you can install hybrid flooring in your home. Just take it slow and steady. The results will be well worth the effort!
Frequently Asked Questions:
How long does hybrid flooring installation take?
On average, expect installation to take 3-4 hours per 10 square metres. Working as a team speeds up the process.
Can I put heavy furniture on hybrid flooring straight after installing?
It's best to wait 24 hours after installation to place heavy furniture and appliances to allow the floor to settle. Use plywood under heavy objects.
How often should I clean hybrid flooring?
A quick daily sweep or vacuum is ideal. Mop with a damp soft mop as needed using a pH neutral vinyl floor cleaner.
The Bottom Line:
With the right prep and patience, you can install stunning hybrid floors for decades. Get your tools ready and embrace the hybrid flooring revolution!